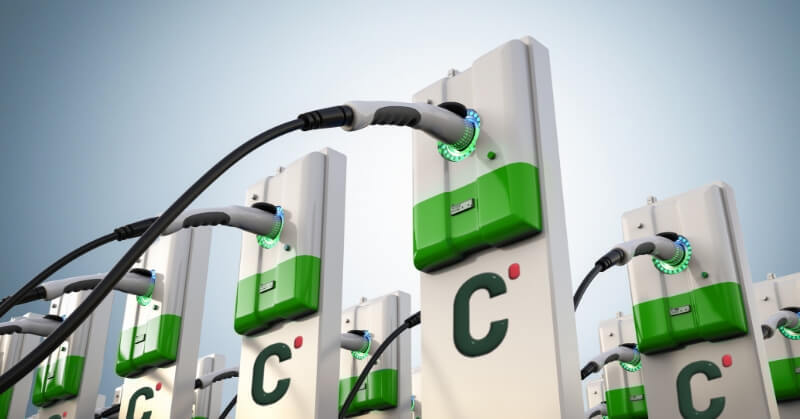 When choosing electric vehicle charging infrastructure, you need to think about the future. As a fledgling industry powered by technology, things evolve fast and the last thing you want to do is install chargers that quickly become out of date. If you're considering offering chargers to your customers, it's possible to plan for the future. This is what you need to know.
OCPP compliance
The Open Charge Point Protocol (OCPP) is a set of standards that ensures both hardware and software compatibility. Choosing a charger that's not OCPP compliant, for example, could mean you have issues using the latest software further down the line — this could mean you're unable to offer the latest features to your customers.

When it comes to software, an OCPP-compliant charge point management system (CPMS) will enable you to work with more devices, unlock new features as they're added, and continue to future-proof your charging infrastructure as the needs of EV drivers evolve.

OCPP 2.0.1 is the latest smart EV charging standard that enables the monitoring of multiple chargers, improved transaction handling, additional smart charging functionalities, and more. In choosing hardware and software that complies with OCPP, you're unlocking a better user experience as well as more flexibility and control over your chargers.
Plug and charge
This is the simplest way for users to charge their vehicles. All they need to do is plug in and the charge will start. Currently, there are usually other steps involved in order for the user to identify themselves to the device. For example, usually, they need to scan an RFID card or use an app in order to start the charge.

A new standard called ISO 15118 lays the groundwork for vehicle-to-grid (V2G) communication and a new type of charging. Being able to simply plug in and charge will redefine the user experience and solve many of the issues drivers currently have when it comes to charging. In order for this to work, the electric vehicle needs to be able to talk to the charger to identify the owner.

The good news is that OCPP 2.0.1 supports ISO 15118 so any compliant software and hardware will enable you to offer plus and charge capabilities in the future. This is something your customers will start to look out for as this V2G becomes more commonplace.
Vehicle to Grid
Vehicle-to-grid functionality goes beyond plug and charge. In the future, V2G will allow for bi-directional charging. This allows the car to charge as normal but also allows the discharging of the battery back to the grid. This can be useful in the car park of an apartment or office block to help manage periods of high electricity use — for example, the energy stored in the batteries of plugged-in vehicles could be used to power the building for a short time, reducing the reliance on the grid.

This could help to save money and increase grid capacity. As long as the user still comes back to the amount of charge they need to go on with their day, everyone is happy.

V2G will play a vital role in the future so choosing the software and chargers that can enable this will help future-proof your infrastructure and allow you to benefit from these functionalities as soon as they are more widely available.

Pre-booking functionality
With more electric vehicles hitting the roads, pre-booking chargers will become a normal part of our lives. This enables drivers to book their charging spot ahead of time to avoid uncertainty around availability and to minimise queuing. An OCPP-compliant charger and the right software will allow you to offer pre-booking in the future.

Currently, there's one charger for every 15 electric vehicles in Europe but EV sales are still on the rise (up 31% year-on-year in 2022). As competition for available chargers becomes more fierce, the ability to pre-book a spot will be something drivers will look out for.
Different payment options
For some people, paying on-demand via an app isn't always the most convenient. As technology and customer needs evolve, it's wise to include functionality that allows for different payment methods including contactless card payments, RFID cards, and app integration – but it doesn't end here.

More convenient methods of payment using number-plate recognition, plug-and-charge functionality, subscriptions, and more will become the norm in the future. Installing chargers and software that will allow for this functionality in the future will make charging easier for your end users.

In order to continue serving your customers and avoid upgrade and replacement costs in the future, it's important to choose OCCP-compliant chargers alongside a charge point management system that will allow you to continue to add new functionality. A future-proofed CPMS will not only give you the most flexibility when it comes to monitoring and updating your chargers but will also ensure your chargers are working for many years to come with all the latest features.

If you'd like to learn about how CURRENT's SmartCharge software could help you future-proof your charging business, get in touch today.