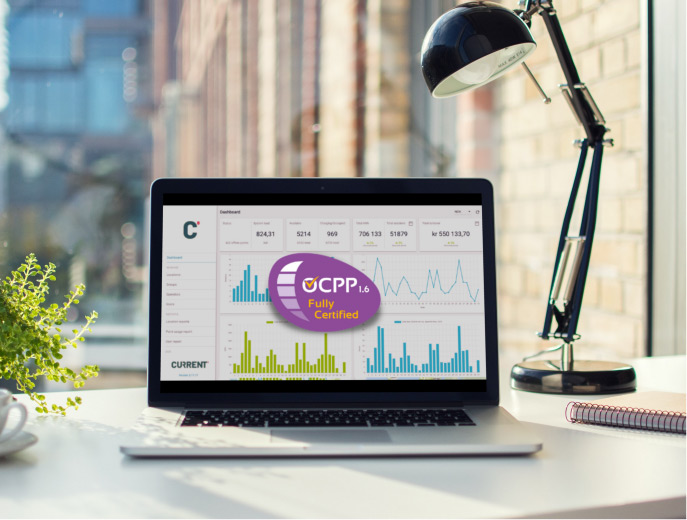 CURRENT is now OCPP 1.6 certified
It's official! CURRENT is one of four worldwide to be OCPP 1.6 Fully certified by the Open Charge Alliance.
The Open Charge Alliance (OCA), an international partnership of more than 180 companies active in the field of electric mobility, has an independent certification program of the industry standard called Open Charge Point Protocol (OCPP).
– We are proud to be one of the first companies worldwide to be OCPP 1.6 certified. And even more so, being the only certified product in the Nordics, says Tom Orvei, CURRENT CEO. The certification gives companies the confidence that there are proven solutions on the market that can accelerate EV adoption, while also raising the level of trust among EV drivers.
OCPP's goal as an open industry standard is to offer a uniform solution for the method of communication between charging stations for EVs and the Charging Station Management System (CSMS). This protocol allows any CSMS to connect with any charging station, regardless of the vendor. A uniform standard prevents all kinds of coordination problems and is therefore an advantage for the entire electric vehicle market.
SmartCharge is a product fully based on adopting OCPP standardisation now and in the future, to facilitate global implementation and make charging smart, safe and simple anywhere in the world.
– With SmartCharge, we are committed to continual innovation and expansion with the support of OCA protocols, as we provide support for more than 30 different charger types already. As a proud member of OCA, we look forward to what the future holds and continue to be our customers' preferred choice for the deployment of smart and sustainable EV charging infrastructure, finishes Tom Orvei.
Based in Oslo, Norway, CURRENT's passionate team of energy experts and engineers currently serve customers in 5 countries, and we are growing fast. We provide our scalable and flexible solution to Energy Utilities, Points Installation Companies, and Network Operators and Providers with a cloud-based, hardware-agnostic platform, helping them generate profits. Today, CURRENT manages thousands of EV chargers, used by more than 50,000 EV drivers monthly, and counting.
The customer list includes strong brands such as Fjordkraft, Ladeklar, Wennstrom, Datek and Bravida.
Learn more about CURRENT's vendor-independent EV Charge Point Management System.
ABOUT CURRENT
CURRENT unleashes the potential of energy with next-level charging solutions for your business needs. Our intelligent, cloud-based and hardware-agnostic platform spans EV operations, energy management, extensive billing capabilities, and home, public and workplace charging. Generating profits with a scalable and flexible solution fully certified by the Open Charge Alliance, you can create a sustainable charging business with CURRENT.