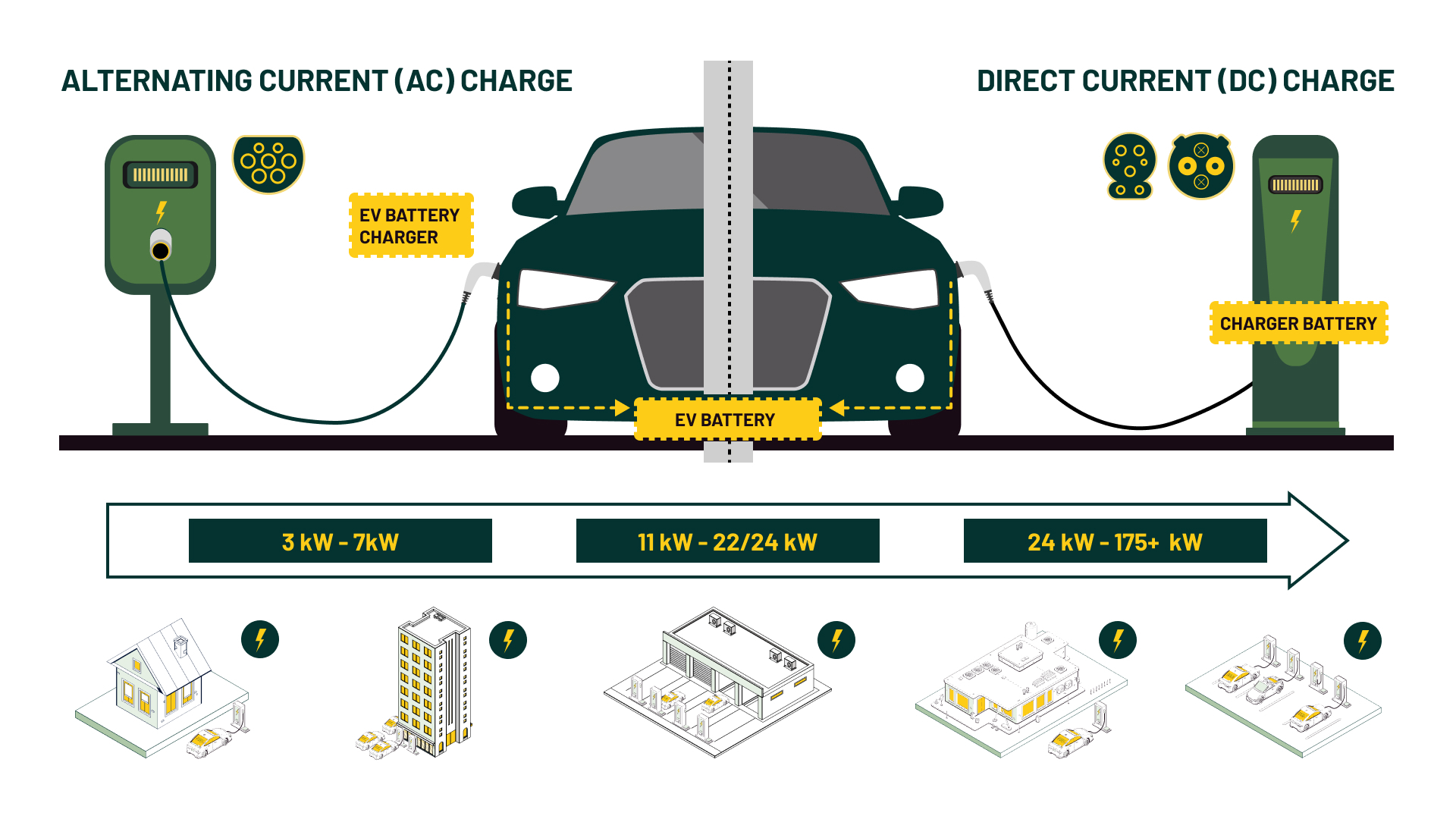 When choosing EV chargers, you'll want to make sure you're getting the one that's right for the location, the end users, and your business. There are a lot of choices out there when it comes to both hardware and software, but one of the first choices you need to make is whether you install AC or DC chargers.
DC chargers are typically called "fast" or "rapid" chargers and start at speeds of around 50kW. The fastest DC chargers offer speeds of up to around 350kW, which can add as much as 350 km of extra range in as little as 10 minutes (depending on the charging speed of the car; not all EVs can accept 350kW of power). Typically, the cables are tethered to the charger so a driver can just pull up and plug in.

AC chargers (also known as destination chargers) tend to charge at around 7kW, adding approximately 48 km of charge per hour. Every type of electric vehicle can plug into one of these, usually using the driver's own cable.

On paper, it might seem like a DC charger is the preferable option but that's not always the case. Destination charging has its place and is often more convenient than stopping at a fast charger.
What to consider when choosing electric vehicle chargers

Before you make your choice, here are some things you need to think about.
Why do you want an EV charger?
What purpose would the installation of chargers serve? You need to examine why you're looking to install a charger in the first place, from a business perspective, before figuring out the rest. Assuming the reason is a desire to attract customers, what do you offer that would keep a customer there? And, hand-in-hand with that, how long do you want them to stay? Understanding why you want or need chargers in the first place helps you open up the following considerations.
Costs
A DC charger will cost significantly more than a single AC charger. Installation costs are also higher for DC units. We often advise our customers to consider multiple AC chargers to save money while being able to provide more options for end-users.
Charger type
There's a huge amount of variety out there. For example, you might want to think about connector types — a DC charger can offer CCS or CHAdeMO connectors, or both, for example. We also recommend only purchasing OCPP-complaint smart chargers (AC or DC) as this gives you more options when it comes to connectivity, user support, and business insights.
Existing infrastructure
The existing electrical infrastructure you have in place will also impact which chargers you can install — as well as how many. Because DC chargers draw so much power from the grid, extra work may be needed to ready the location for installation.
Energy availability
The amount of energy supplied to the location will dictate what type of charger is most appropriate as well as how many you can have.
User behaviour
If you have a location with short dwell times (a service station, for example) a DC charger makes the most sense as it allows drivers to plug in, grab a coffee and some food, then be on their way. For locations with longer dwell times (such as a retail park), AC chargers will encourage visitors to stay longer.
Business model
The type of business you run can also impact the type of charger you choose. If the goal is to provide a service to visitors to encourage them to spend time at the location, an AC charger is most appropriate. If you're looking for ways to increase revenue from a short-stay car park, however, a DC charger is a good option.
Where to use AC Chargers
It's important to think about dwell time when looking at destination charging. For anyone in a rush who doesn't want to stop for too long, an AC charger isn't going to be very convenient. For destinations where the customer will spend more time away from their vehicle, however, AC charging is your best option.
Benefits of AC chargers:
The user can plug in and forget about their vehicle while they shop, sleep, eat, or visit an attraction.
There's no need for the user to move their car after a certain amount of time.
AC chargers are typically cheaper to buy and install.
Location owners can provide more AC chargers for the cost of a single DC charger.
They are, typically, more simple to use and require less maintenance.
All EVs can use AC chargers.
Challenges of AC chargers:
They can seem slow to people who are used to charging at fast chargers.
The user needs to bring their own cable.
If you want to provide multiple AC chargers, you'll need to convert multiple parking bays (or risk chargers being blocked by other vehicles).
Where to use DC Chargers
For service stations and any locations with dwell times of under an hour, a DC charger can help get your customers back on the road as quickly as possible. Despite being more expensive to install, they typically generate a higher per kWh price and allow for more charging sessions per day.
Benefits of DC chargers:
Convenient for drivers who need a quick stop to charge.
Typically generate more revenue compared to AC chargers.
Tethered cables make it easy to plug in.
Larger, more obvious units make them easier to find in a car park.
Many EV drivers will seek our DC chargers specifically during a long journey.
Challenges of DC chargers:
More expensive to buy and install.
Require more space and extra infrastructure work.
Higher maintenance costs.
You'll need to consider the connector type — though you can find chargers that offer both CCS and
CHAdeMO connectors.
Not all EVs can use DC chargers.
How to determine what's right for you
When looking at whether AC or DC chargers are right for you, it's worth speaking with an expert to find out exactly what's possible, as well as what will be most efficient. At CURRENT, we regularly work with our customers to help guide them on the best hardware for their needs.

If you understand the needs of your customers, we'll be able to guide you on what will provide the best charging experience for them while managing costs. If you'd like to find out how we can help, get in touch today.