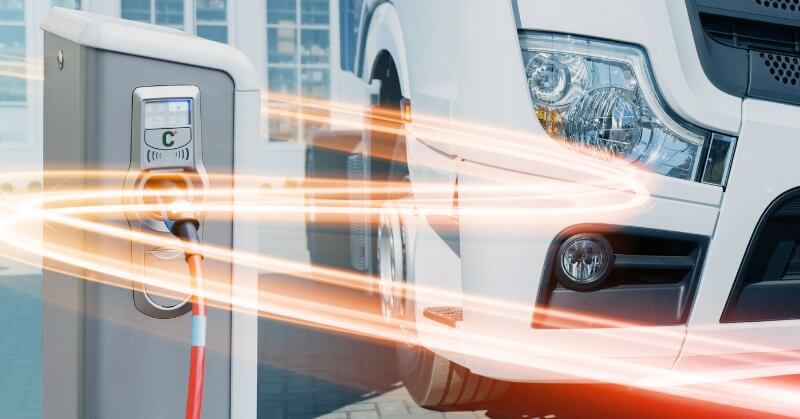 If you're a fleet owner who has decided to electrify your fleet, you may have already realised that it comes with a few unique challenges – as well as a lot of questions.
When going electric, you need to invest in infrastructure, hardware and connectivity. There are risks involved. Complexities. Costs. It's important to make the right decisions or you risk ending up with a fleet operation that negatively impacts your bottom line.
When it comes to EV fleet charging, the right decision requires selecting a comprehensive back-end management and control system, also known as an EV fleet charging management platform.
What to look for in an EV fleet charging management platform
By using a comprehensive EV fleet charging management solution, you as a fleet manager will stay on top of all aspects of EV charging and have full control of your entire charging network. You will benefit from a simple and easy-to-use portal that supports any fleet size, allows charging at work, home, in a central depot or on the go, and provides the tools you need to manage reservations and operations for drivers and chargers.
The platform should provide you with real-time insights about EV charging behaviour, energy consumption, and more. Furthermore, EV fleet charging management solutions should enable you to reduce CAPEX and OPEX through efficient energy procurement and management.
For instance, the solution should include smart energy management functionality with demand-response capabilities and support for Vehicle-to-Grid (V2G) and Vehicle-to-Everything (V2X) when the hardware is compliant.
Now let's get granular and talk about four essential components of an EV fleet management platform:


1. Operations management
An operations management module should allow you to optimise your EV charging operations:
Easily manage your charging stations and customise their features remotely.
Create access and visibility rules (private/public), as well as monitor and manage station health
Manage user accounts, define access rules and terms of usage for different user groups
Get extensive APIs and integration capabilities, including roaming with other charging networks
Benefit from hardware flexibility through Open Charge Point Protocol (OCPP) and leading industry standards


2. Billing management
A billing management module should allow you to control costs and generate additional revenue:
Control access to charge points for all drivers
Increase revenue by setting charging fees for visitors
Customise billing settings and create detailed pricing plans
Connect your employees' home chargers and integrate with public charging operators via roaming
Get real-time reporting and dashboards
Have support for multiple currencies


3. Energy management
An energy management module should reduce energy costs and the amount of infrastructure investment needed:
Static Load Management: Set maximum power preventing fuse from breaking due to too high power demand,
Dynamic Load Management: A system for distributing energy between the chargers, ensuring the capacity is utilised in the most optimized way, Full control over queuing system, and energy management allows for periodically and dynamically reduced power usage according to your operational needs.
Grid integration: Charging facilities operate as an integrated part of the power system and adjust consumption with the grid dynamically based on your and your power supplier's operational needs.
Real-time monitoring of power needs and visual display of energy usage
Peak Power Control: Peak shaving and peak optimisation, enabling automatic adjustment of available power.
V2G and V2X technology support
Read more: What is smart EV charging?


4. User-friendly EV fleet driver tools
For EV drivers to enjoy a hassle-free driving experience, a good EV fleet charging management solution should enable them to seamlessly charge wherever and whenever they want – at home, at the depot, or on the go.
The platform should allow drivers to:
Have real-time access to nearby charging stations
Start and stop charging as they please
Monitor charging in real time
Choose from a variety of payment methods
See receipts and usage history
Automatically handle invoicing and settlements regardless of whether it's a company or private car
Remotely control and resolve user issues
Use QR codes to easily connect to charge points with a mobile app


Summary
Once you have made the decision to electrify your fleet, you will need a comprehensive charging management platform that provides you with all the tools you need to monitor, manage and optimise charging for your EV fleet and facilities.
A future-proof solution will enable you as a fleet manager to:
Balance energy usage and optimise existing power infrastructure
Reduce CAPEX and OPEX by reducing investments in infrastructure and ensuring vehicles can be charged when energy costs are low
Be sure that EV fleet drivers always have fully charged vehicles at the right time – and that the grid can handle it
Ensure chargers are available and functioning
Meet greenhouse gas (GHG) reduction regulations
Remotely diagnose and take proactive action to resolve charging-related issues
Analyse and understand costs, trends and resource usage
Have access to real-time reporting and analytics
Address today's and tomorrow's demands for EV fleet charging management