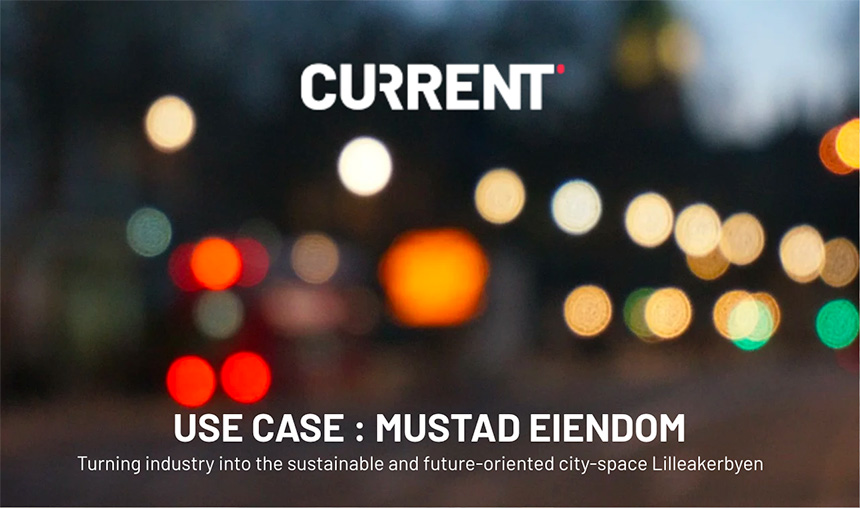 Turning industry into the sustainable and future-oriented city-space Lilleakerbyen. With a focus on sustainable solutions in all they do, Mustad Eiendom sets their expectations towards themselves and partners high. They emphasize the need for sustainability, also taking the responsibility they have towards the community they are a part of very seriously.
"We strongly believe that electric vehicles are the future of transportation.
We want to support the development of a more sustainable transport sector by making the needed infrastructure for charging cars available."
- Terje Wathne, technical real estate manager for Mustad Eiendom

Choosing Current to support a sustainable future
Terje Wathne is the technical real estate manager for Mustad Eiendom. Terje has a background of being an electro installer and has worked for Mustad Eiendom for about four years.

In the development of Lilleakerbyen - a project that will turn the previously industrial area into a living, green city with living areas, shops, and restaurants, there is also a need for ensuring that the infrastructure for electric vehicles is in place.

When Mustad Eiendom first wanted to install charging stations, they looked into different vendors, and Current was one of them.


"We chose Current´s Smart Charge solution simply because it was the best solution in the market. We have a close dialogue with the technicians, and they are always available for problem-solving and help, both for our customers and us."
- Terje Wathne, technical real estate manager for Mustad Eiendom
140 charge points and EASY TO ADD more
Today, there are 140 charge points on the premises, and whenever there is a need for more, Terje ensures that new stations are installed wherever needed. Current's Smart Charge solution is always the software behind the box.
With Current, Mustad Eiendom gets backend software that works with many different hardware/charging boxes, so there is always the choice of hardware, giving the customers what they are used to or what they want.
Also, the payment system is streamlined and automatic. The app used for payment can be set up and tailored to the customer´s needs and even branded, so the customer using the charge point gets the experience of using YOUR charge point.


"We are very pleased with the payment system of Current´s solution. We get a monthly report with an overview of each charge point and user, and the system of getting payment from the user is automatic and hassle-free."
- Terje Wathne, technical real estate manager for Mustad Eiendom


About MUSTAD EIENDOM
Mustad Eiendom is a family-owned company with a history of almost 150 years. They focus on sustainable real estate development and environmentally friendly solutions for the future. They own and manage the land stretching from Lilleaker Station to Lilleakerveien, where the tram stops and down again to Lysaker station. The area includes the shopping center CC Vest, the car shops Møller bil and Skoda, and other smaller shops and office buildings. This area is developing to become Lilleakerbyen, a new city-center with all commodities included.