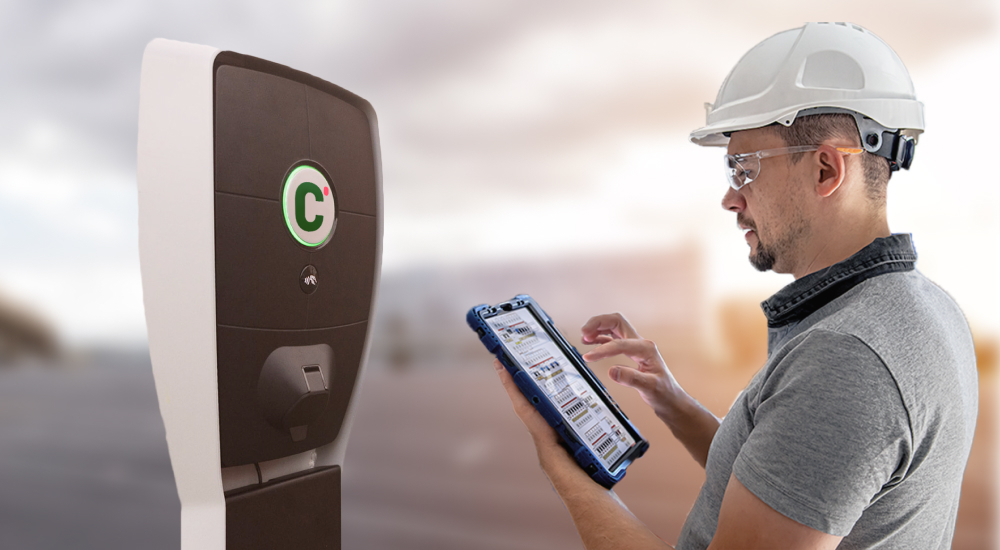 If you've made the decision to install electric vehicle (EV) chargers, you might be wondering what happens next. Once you've decided to go ahead, you'll need to start working with a partner who can help bring your project to life.
Here at CURRENT, we're used to supporting businesses of all shapes and sizes on projects like yours. Before we get started there are a few things you need to think about.
Consider what end-users want
Think about the people who will be using the chargers; what do they need and want? A bit of basic market research will help you determine what type of chargers might be best for your business. For example, if you're offering charge points to employees, an AC smart charger would be ideal.
On the other hand, if you're offering charging to customers who don't typically dwell long at your location, a DC fast charger could make more sense.
On top of this, you need to think about what your end-users will be doing while their vehicle charges, how they'd prefer to pay, and where the most convenient locations might be for them.
Choose your charge point management software
In order to futureproof your chargers, you need charge point management software (CPMS) that complies with OCPP (Open Charge Point Protocol) standards and is, ideally, hardware agnostic. This will ensure you have the best compatibility alongside visibility into charger use and the ability to control each device remotely.
Read more: Here's a rundown of our SmartCharge CPMS.
Choosing your charging hardware
You'll also need a smart charger that fits the needs of your end-users as well as your own goals. CURRENT is always on hand to advise on the things you might need to consider when choosing EV charger hardware.
Energy/infrastructure requirements
The amount of energy available at your location, as well as the infrastructure already in place, will have an impact on the installation phase of your chargers. If you need extra infrastructure work, this might be more disruptive and take longer than you may have budgeted for.
In order to get a better idea of what's possible, the costs, and your options, a site visit is the first step in the installation process. This will tell you everything you need to know about additional requirements and the time it might take.
Installation
During installation, you can expect a little disruption but with AC chargers (also known as destination chargers) this can usually be kept to a minimum. While the chargers are being installed, we can either liaise with your electrician or you can do this directly.
As well as the physical installation of the charger, the installation phase might require additional ground works or infrastructure upgrades. It's also worth considering signage, accessibility, and landscaping around the chargers during this time.
Load balancing setup
For clients that require dynamic load balancing to keep costs low and minimise energy use at peak times, we can help set this up and manage the boundary conditions. This provides individual charge point control and the ability to set current and queue settings.
Once your chargers are in place, we collaborate with facility managers to enable optimization for desired outcomes, as demonstrated by a multi-unit dwelling in Oslo that saved £4,000 per month after implementing functionalities tailored to their needs.
Read more on managing energy demand here.
Payment options
You'll need to consider how you want end-users to pay for their charging. You might implement automatic number plate recognition linked to an account (as our client AutoPay does), or you might offer payment through an app, a monthly subscription, or something else entirely. Our CPMS billing solution not only gives you a wealth of options but also streamlines the process to help you reduce admin.
Discoverability
If you're just offering charging to guests then you might not want the public to be able to use your chargers. However, if you want more people to visit your destination, you need to consider how they'll find the charge points. This is where roaming comes in, as it allows people to find your charge points on an app.
At CURRENT, we offer both internal and external roaming services. Internal roaming is included as a standard for all clients, allowing them to offer chargers to customers in areas without operator coverage. For external roaming, we have integrated various protocols to enable locations to offer their charging services through partner apps. We provide the technology layer for charge point operators to offer their chargers, while clients handle commercial agreements.
Read more: How EV roaming makes charging easier than ever.
Maintenance
Another aspect you'll need to consider once your charge points are in is maintenance. Often this can be facilitated by the person who carried out the installation. How often your charge points are checked depends on a number of factors but you'll be able to get a recommendation from your installer.
Support
You'll need to have support in place to help end-users if something goes wrong. Whether you handle this yourself or outsource it, it's important to have the right software in place. SmartCharge allows support staff to remotely check on a charger and restart it if needed.
This means most problems can be solved without having to send out an engineer. This will increase your charger uptime and help guide users who might be less tech-savvy or new to charging.
CURRENT is here to guide you every step of the way and can answer any questions including:
How quickly can I install an EV charger?
What power is needed for an electric car charger?
How do I start an EV charger company?
What are the requirements to install an EV charger?
If you'd like to find out more about the next steps in getting your charge points involved, contact us today.