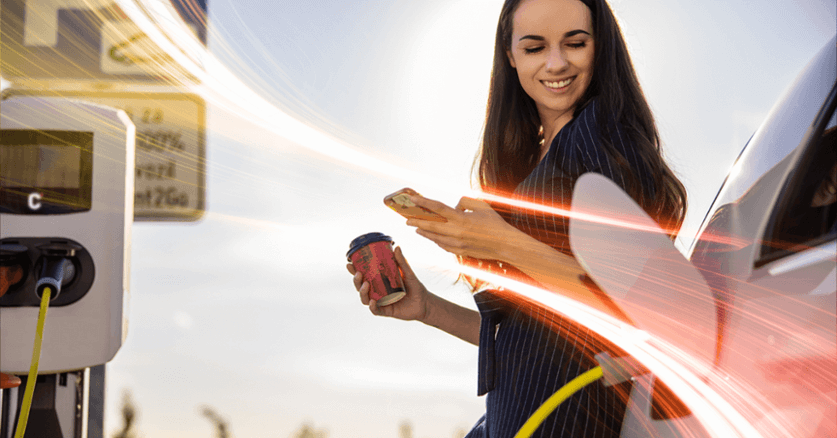 One thing that EV drivers find frustrating is the need to use several apps in order to find an available charger. At CURRENT, we're solving this problem by giving our clients the ability to extend their EV charging network beyond their owned inventory using roaming. Roaming allows a charge point operator to share their chargers with other operators or e-mobility service providers (EMSP), meaning the chargers will show up within an app used by the EV driver, regardless of whether the CPO owns these chargers or not. This reduces the friction and challenge for the EV driver by removing the guesswork of which app each charger works with while improving the overall customer experience.
How does roaming work?
EV Roaming allows all charging stakeholders to communicate with third-party apps and e-mobility service providers, enabling them to share their chargers. For example, a parking lot might share the details of its charge points with an app in order to get more people parking there and charging.
Currently, the charge point operators sharing their chargers can choose to increase pricing for users that come from a third-party app. Drivers are happy to pay this as many value ease and simplicity over costs. However, we may start to see regulations come in place to normalize pricing even for out-of-network charges.
Right now, it's easy to go into a gas station with a credit card and fill your ICE vehicle with petrol. For EV adoption to really take off, it needs to be that simple for EV drivers, too — roaming is the first step. We'd like to see charge point operators and end users be able to communicate in one unified way to make it just as simple to plug in your car as it is to fill up your gas tank.
At CURRENT, we make the distinction between internal and external roaming. Internal roaming comes as a standard for all our clients. This means that in areas where operators don't have coverage, but another provider using our platform does, they can offer those chargers to customers without any extra costs.
For external roaming, we've integrated several different roaming protocols. This means locations can offer their charging services to someone using the Audi or Porsche charging apps, for example. We are providing the technology layer to enable charge point operators to offer their chargers to these service providers. It's then down to our clients to set up the commercial agreement themselves while we handle the technical aspects.
The benefits of roaming
Charge point operators want their devices in use. It's simple: the more people charging their cars, the more revenue you can bring in. By using roaming, more people can find and use these chargers, which is good news for everyone involved. EV drivers are happy while location managers and CPOs benefit from the increase in charging sessions.
Other benefits include:
More straightforward process for end-users
Increased exposure, which leads to more charging sessions
Increased revenue
Improved reputation with drivers
It's important that EV drivers are able to trust the information they're seeing when looking for a charger. Roaming improves this by putting information on charger locations and availability into the preferred apps of each user. This is an important point if we are to get to mass adoption, no one wants to choose a charger only to find out that it's occupied or not working.
How to utilize roaming
We help our clients achieve roaming faster and, in the long run, more affordably, too. As with everything we do, CURRENT handles the technology side, allowing our clients to focus on other aspects of their businesses. We've already solved many of the roaming challenges, making it easier for clients to come on board and begin using this feature immediately.
If you'd like to explore how roaming can help to increase your charging sessions and revenue, book in for a demo of the SmartCharge platform here.