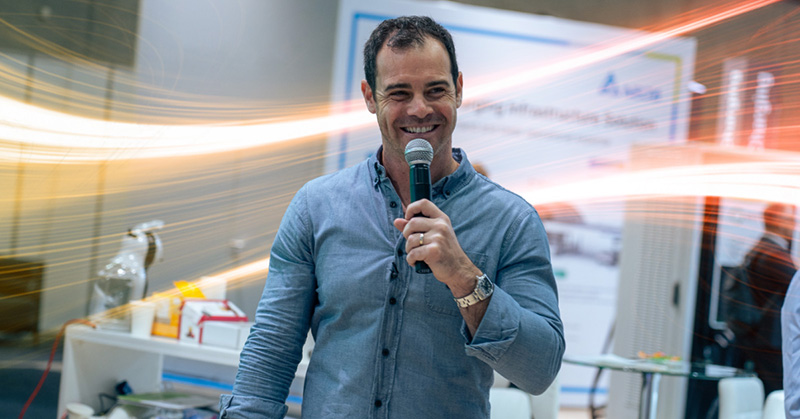 Breaking down barriers to growth has always been in Josh Swerdlow's character as a revenue growth leader well-versed in supporting tech start-ups, global engineering firms, and SaaS platforms.
Swerdlow joined CURRENT in October 2021 as Vice President of sales; a familiar role in a new environment. Working within the EV value chain (electric vehicles, charging networks, and infrastructure) has never been more exciting, or critical. And for Swerdlow, a UK-born business graduate working internationally from his home in Tel Aviv, this was the incentive he was looking for.

Working for a Norwegian SaaS business within the EV space was a clear-cut no-brainer for Swerdlow; it's the nation currently leading the charge in EV adoption. Moreover, what became most apparent for him as he settled into the role where the ethical values were put into play by his new Norwegian colleagues. A new way of working, with fast growth and flexible technology as the guiding principles, has led him to extol the virtues of 'the Norwegian way'.
Norway's leading edge
When organisers of the EV Charging Infrastructure Summit approached Innovation Norway for ideas on the right person to speak to audiences at their June 2022 London forum, they turned to CURRENT, a known leader in Norwegian EV charging and SaaS innovation. Swerdlow explains, "They asked us to propose a topic. I immediately knew I wanted to talk about what lessons the UK can learn from Norway, as the leading country in the world for EV adoption."

What lends reassurance, particularly to the UK market, is sharing experiences. The UK is still trying to understand the right ways to approach EV adoption as a society. So to share an insight into some of the answers from a Norwegian perspective – what works, what doesn't, and CURRENT's experience as a charge point operator in its earliest incarnation – Swerdlow understands what the pain points are, where different stakeholders are at, and where they should be heading.

Rather than guessing or assuming, hands-on experience shows the reality.
A More human story
Hot on the heels of a successful showing for CURRENT at EVS35 Oslo mid-month, Swerdlow arrived in London as a speaker delegate for the EV Charging Infrastructure Summit at the end of June. A strong believer in using personal values to guide business decisions, he wanted to approach his talk from a fresh angle.

"I wanted to do something different, not give a presentation that's heavily technical or a straight-up sales pitch. I wanted it to be for the audience, not for us. So fewer stats, no complicated slides, a more human story as I'm finding that's what we're missing in the EV space. Stats need context for an audience, and that's what I wanted to share. The technical side of EV charging and infrastructure is genuinely fascinating, but it needs the stories that emerge from it to engage and influence owners, operators, change-makers, and innovative financiers."
Opening up the conversation
Swerdlow's highly personal presentation truly stood out amongst the technical and sales-orientated talks, and for that, he's thrilled, particularly as the talk was given on home soil. He explains, "CURRENT is Norwegian, yes, but I'm English. I know what we're like – we hate to ask for help and we don't want to be sold to. So let's just have a story. Let's try and open that dialogue. I had a brilliant question afterward – a guy from the Wirral, near Liverpool, like myself, said: 'People like me think that EVs are just for rich people. We're only helping the rich people by providing them with chargers, aren't we?'

"It's exactly this kind of conversation we want to be part of: opening up the EV value chain dialogue to include everyone, providing education, and influencing a purchase with the right financial incentives. This has to happen again and again, so it loses that just-for-the-rich label. When you dive deeper into the day-to-day outgoings of an EV, you can see that it's cheaper, the savings are there.

"What I appreciated most from that question was that someone really connected with the story and saw themselves in it – or in this case, felt that they did not see themselves. That tells me quite clearly that we need to keep sharing these EV value chain stories now, if adoption is to become a subconscious part of UK society in the near future.

"It shows that it's not just about data. So many companies are coming from a technical standpoint, and obviously technical data has value in the conversation, but people want stories from this still-emerging industry if they are to see themselves joining in."

Encouraged by the response, Swerdlow wants to see more conversations that are led by a 'shared goal' narrative. He continues, "Afterwards, several people came up to me to start a conversation, saying they enjoyed it. That was nice to hear, of course, but what was even better was they then dived straight into, 'This is what we're looking to do in our company, in our region. These are the challenges that we're facing'. And I think they sought me out afterward because sharing a story is more vulnerable than data. It creates a two-way conversation, even from a lectern. It's about telling a story on stage that continues in person. We want people to continue talking."
Your Next Step with CURRENT
As Swerdlow makes plans to share this message with other countries (make a speaker enquiry here) he's the first to encourage dialogue with the CURRENT team, stating unequivocally, "Every EV value chain story matters to us".

"Any business – an owner-operator or house builder, for example – can reach out to us and ask questions," Swerdlow suggests. "We're a company that's driven by people. Reach out to me directly, we can discuss the situation you're in and understand who the best people within our organisation are to give some advice or a helping hand.

"Halting climate change and achieving net-zero is like a group task at school, on a worldwide scale. And I think this is one of the small but significant ways in which we can all play our part – not just in terms of our businesses, but as individuals, helping to shape change. Be willing to share information and experiences so others can join you on any trail you blaze."