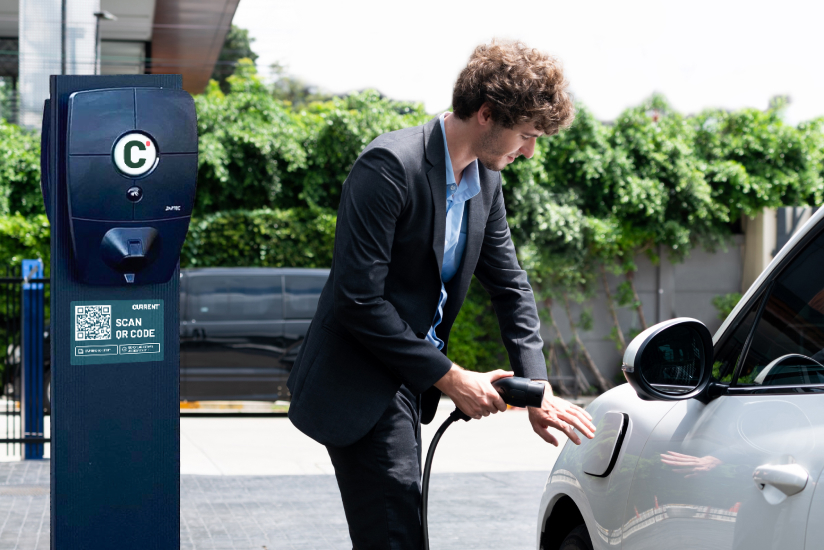 Businesses across the entire world are looking for ways to be more sustainable, and here at CURRENT we are happy to help support our clients in their corporate social responsibility (CSR) goals. For any businesses looking to improve their sustainability credentials, it could be worth offering EV charging.
There are numerous benefits to this as many countries are planning to ban fossil-fuel vehicles in the coming years. Not only will installing destination chargers (also known as AC chargers) attract EV drivers now, but it'll also future-proof your business going forward.
Contributing to local infrastructure
When you offer EV charge points to your customers and employees, you're also contributing to the local charging infrastructure. For electric vehicles to become the norm, more chargers are required. In fact, in our recent Current State of Charge whitepaper, we talked about the need for an estimated 2.9 million additional public fast chargers by 2030 to keep up with demand.
While these fast chargers are important, destination chargers will help fill the gap and will give EV drivers a different experience. Where fast chargers are designed to get as close as possible to the refuelling experience as possible, destination chargers allow drivers to come back to extra miles as they go about their normal daily lives.
Reducing local pollution
Electric vehicles have zero tailpipe emissions. In encouraging them to your business, you're doing your part to reduce pollution from transportation within the local area. If your business's electricity supply comes from renewable sources, then you're doing even more to reduce emissions.
Becoming more aware of energy use
While electric vehicle charging will use energy, one thing our customers have found is how much more aware they are of their energy use. As long as you install a smart charger with the correct OCPP-compliant software, you're able to get an insight into how your chargers are being used, from trends to energy consumption.
Achieving your own sustainability goals
Offering EV charging could help you achieve your own sustainability goals as a business. Not only are you doing your part, but this sends a strong message that your business takes sustainability seriously. So whether you're trying to work towards the UN's Sustainable Development Goals, or you're just trying to bring more eco-conscious practices into your business, installing destination chargers is a great first step.
If you'd to know more about destination charging, take a look at these related articles: