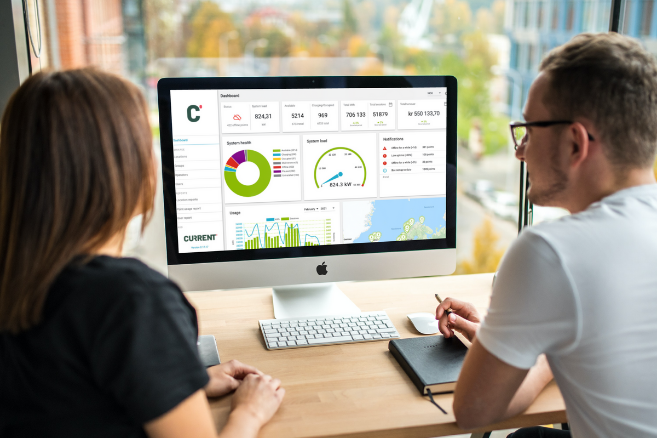 For both fleet drivers and operators, CURRENT's EV fleet management solution ensures an easy, smooth, steady, predictable charging experience.

Fleet operators face many challenges and questions when electrifying their fleets. These issues have already been covered in 3 key reasons fleet operators should choose CURRENT and Successful fleet electrification: Critical considerations for the fleet operator.
Bottom line: Successful fleet electrification requires experience and expertise. Otherwise, you'll make mistakes and waste time. Unsurprisingly, this costs you money.
There's a better way. When you work with CURRENT to electrify your fleet, we will provide you with all the know-how and tools you need to manage your EV fleet effectively.
So why is CURRENT the right choice for EV fleet operators? Basically, it boils down to three things: expertise, stability and compliance.
HOW CAN OUR
EXPERTISE
HELP YOU TO SUCCEED?
The EV industry is in our blood. In one of the world's most advanced EV markets, we operate 8,500 charge points. After serving as both an eMobility Service Provider and a charge point operator for eight years, we know pretty much everything about the EV market.
Here are a few things we can help you with:
Increased uptime and stability
Reduced management costs related to support and maintenance
Compatibility of different types of hardware
What are the EV driver challenges in their life cycles

The most effective way to get long-term returns on your investment includes setting up and managing your EV fleet operation to avoid common pitfalls. We provide the expertise and tools you need to build a cost-efficient, eco-friendly electric fleet operation.
HOW CAN OUR
STABILITY
HELP YOU TO SUCCEED?
CURRENT is here to stay, with future-ready software solutions. With over 8,500 stations and 25,000 monthly users, we have grown to be the largest independent provider of eMobility platforms in Scandinavia. When we partner with fleet operators, we're in it for the long run.
Here are a few things we can help you with:
A more satisfied customer base and a more effective scaling strategy
Monitoring and improving your operations
Improved procurement accuracy by reducing incorrect purchases
Improved legacy charger implementation
Over-the-Air (OTA) on all of our certified chargers
HOW CAN OUR
COMPLIANCE
HELP YOU TO SUCCEED?
The CURRENT platform is hardware-agnostic and based on open industry standards, supporting over 40 charger models. Our platform will meet all your technical requirements, so you can focus on your business and customers.
By testing and certifying all chargers on our platform, we make sure your drivers have a smooth charging experience.
Here are a few benefits you can expect as a customer:
Utilise certified and tested hardware to ensure quality and functionality in your sales
By using OTA, you can improve your existing certified hardware without having to check for technical compliance
Using certified chargers reduces the cost of operation, maintenance and upgrades
CONCLUSION
By using CURRENT's EV fleet management solution, you will be able to gain an insights-driven, unified picture of your EV fleet usage, increasing driver satisfaction and reducing costs.