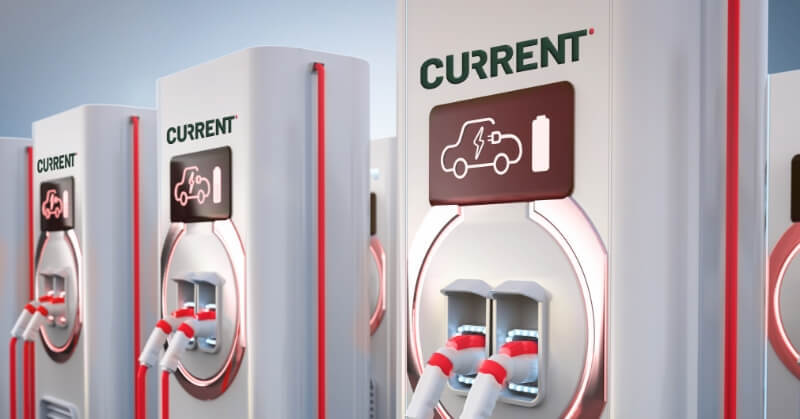 The improvement of the electric vehicle landscape – and all its associated infrastructure – is crucial to CURRENT, and we're working hard to make sure we play our part in the way the industry evolves.
Alongside the development of our own software solution, we're continually supporting other players in the market to ensure that the world is ready for the direction that the automotive industry is moving in. The future of mobility hinges on better technology and better education.

Here are just a few of the EV charger projects CURRENT is supporting right now.
BiDCharge
We've recently begun a new European project in conjunction with two other partners. For this, we're supporting the development of a DC charging station – a bi-directional one with batteries that can be deployed on existing grids. It will combine charging and decentralized energy storage, one of the key features of scaling up our charge point network in countries lacking distribution or transmission capacity.

Want to learn more about bi-directional charging and V2X?



CURRENT is the project lead for the BiDCharge project, combining different solutions and helping our partners design the right kit to create the functionality we want. We'll be piloting this project in Norway, the UK, and possibly Ireland, but once the kit is ready it can be deployed anywhere. At that point, charge point operators (CPOs) can procure the kit and roll it out in their business area.

This will make a big difference, particularly in areas where the electricity grid is less robust. We've been speaking to distribution system operators (DSOs) and transmission system operators (TSOs) about what this project promises to the market, and the response has been positive.

Once the project is finalized, we'll be able to deliver awesome things, very quickly, that will help speed up the adoption of EVs without putting strain on the grid. Relieving that strain is a major factor when we look at mass deployment, especially in the UK and Germany. This kind of project will inevitably end up supporting similar projects in the future – we're certain of that because we're already talking to other clients proposing this.
SCALE (Smart Charging Alignment Europe)
SCALE is a project we're supporting for bi-directional AC charging. We'll be testing some existing equipment and creating some use cases to help the automotive, charging, and energy industries. Again, we're taking the lead here and supporting the project with our knowledge, while being heavily involved in the technical and operational side too. This is where CURRENT really shines – dead center between three different industries that are coming together to create new business models and services.

The problem this solves is about capacity. If everybody buys an EV right now, we will not be able to deliver enough energy at the right time to the locations where it's needed – so we need to redesign the system. If we're going to redesign it in a way where we're capable of moving all the energy, all the time, between every location, the cost is going to be insane.
What we are doing instead is helping to reduce the investment costs in basic infrastructure in order to deliver a more widespread service.

We're able to learn, for example, how much energy people would be willing to share from their car when they're at work, or at a shopping mall, or at home. It's one thing to sit behind a desk and speculate, but we're now testing it with real people and real situations. The findings we're collecting will have a huge impact on the design of the hardware, service, and grid of tomorrow.
Next-generation charging
We're working with a major chargepoint provider in Sweden right now, giving feedback on their existing kits to allow them to continuously develop their products. For this, we're compiling customer and installer feedback regarding the products and the functionalities they want. We've been working with this business for the last two years; when they began, they had to figure out a lot for themselves, and they were delivering a good product. But with CURRENT as a partner, they're getting better all the time.

Not only are we able to give them straight answers when they need them, but we're also providing information about operations on existing kits and how to make things better for the next incarnation of their chargers. All of this has created a much more user-friendly, versatile system.

This is a vendor that will sell all over Europe, and it's primarily their own work but we're inextricably a part of it now, providing detail on what CPOs and clients want from their charging technology. Helping our partners create better products enables us to grow as a business. If everyone's happy and growing, we grow with them.
OCPP compliance and standardization
A long-running and overarching project for CURRENT is compliance education. With a broad scope, we're working with different vendors to improve open charge point protocol (OCPP) compliance to help future-proof their businesses. OCPP is an open-source communication standard for EV charging technology and is something our own software platform strictly follows. It allows stakeholders across the EV charging ecosystem to integrate freely and benefit from a plethora of features.

The way we're approaching the betterment of OCPP compliance is very simple. We have vendors try to implement OCPP compliance based on their interpretation of the specifications, and then we do full OCPP tests – plus some of our own – to see how the charger handles and if it's behaving correctly.

What generally happens is we then help the vendor fix their hardware or firmware to improve it as much as possible. Once a charger is integrated with us, we continuously give feedback on the things that aren't working as well as they should.

This way, the vendors can keep adopting new functionalities and firmware to prolong the life of the technology or increase the range of the services they're providing. We do this with major players like ABB Siemens and Schneider, all the way to local providers and new players entering the market.

In some cases, we also help them choose the right components to be able to deliver the functionalities they didn't know they wanted to deliver. For example, one vendor has been asking questions about what we think the customer would like to have in three years' time and what they need to do to be able to deliver this. From there we can educate on what's to come and the direction the industry is moving in.

There are challenges here, of course, depending on where you're going to deploy your kit, or whether it's AC or DC, for example. But when push comes to shove the EV driver just wants everything to work how it's supposed to.

The biggest issue we see is people misinterpreting the OCPP standard, but there's really no room for interpretation. Nobody else was dealing with the misinformation surrounding OCPP, which is why we decided to tackle the issue ourselves. We saw that non-compliant technology was disrupting our business model, so it became a responsibility for us. Getting people compliant with OCPP is a major drive for 2023, and while we're not close to fixing the issue yet, it's getting better all the time.

Everybody wants to work with the best kit – including us – so if we can help to make other companies the best they can be, that's ideal. We take our role as an educator seriously, and these projects are powerful examples of that. If you want to learn more about how CURRENT can support you, contact us.