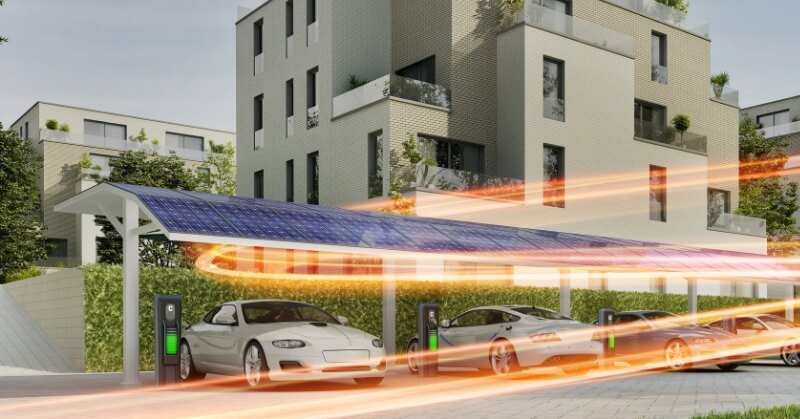 One of the big questions people have about the shift to electric mobility is: how do I charge when I don't have a driveway?
This is a perfectly valid question that's left many considering whether an electric vehicle (EV) is right for them. Despite many countries committing to a ban on internal-combustion-engine (ICE) vehicles within the next 10-15 years, there's still uncertainty around how those in multi-unit dwellings will charge their cars.
In Norway, 20% of people live in apartment blocks or other types of multi-unit buildings. In Germany, however, that number is as high as 56% and in Sweden, it's 49%. With so many people unable to access a private driveway to charge, there needs to be a solution.

Plus, the majority of people spend most of the week driving only between home and work. It's common for cars to spend at least 23 hours of the day parked at one of these two places, and for every hour they are plugged into a charger, they can get 7 kWh – approximately 50 km worth – back. As such, charging at home or at work is often the best solution for EV drivers, meaning that good planning and the right hardware in place are all drivers need to ensure they have enough energy.
The power of policy

While many building owners choose to install EV chargers, government policy has accelerated this. In 2020, Germany passed the "Act on the Modernization of Homeownership (WEMoG )". This allows individual apartment owners and tenants to install chargers in their buildings — rather than waiting for every other resident and the housing association owners to agree.

Germany then passed another law in 2021 called the "Building Electromobility Infrastructure Act (GEIG) ". This stated that owners of any new apartment buildings with more than five parking spaces are required to include the necessary infrastructure for charging facilities.
This also applies to buildings with more than 10 parking spaces that are undergoing renovations — unless the costs for chargers exceed 7% of the planned renovation cost.

Both policies mean that more of these chargers are now available in the car parks of apartments, condos, and other buildings with multiple residential units. This is something that could continue to accelerate the uptake of electric vehicles, especially in cities.

The United Kingdom has also brought in a similar law that means any new building (or existing one undergoing renovations) with more than 10 parking spaces will need to have a charger, as well as cable routes to every space to make it easier to install other charge points in the future.

These policies, and similar ones across Europe, are driving a rise in charge points in multi-unit dwellings. This supports new and potential EV drivers and gives them the option to find housing that suits their needs or take action to install their own chargers.
Public charging is still important
Despite government policies, there are still plenty of people left without access to a charger at home. In areas where there's a high density of apartments, it's important to have more public chargers per EV driver than in areas with detached and semi-detached homes. This enables those in the apartment blocks to easily charge using the public network.

With apartment dwellers leaning on the public infrastructure, there need to be more chargers within these areas to ensure availability for all. In the Netherlands, there's a high percentage of chargers per million people, but even more so in areas where there are a lot of people living in multi-unit dwellings.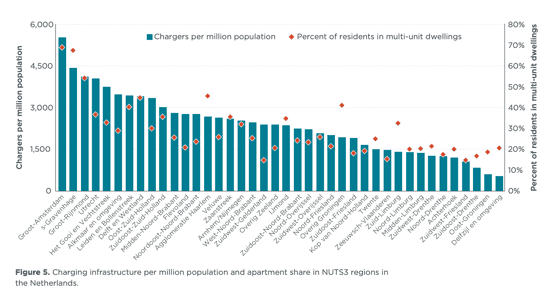 Source: The ICCT

For example, in Amsterdam in 2021, there were almost 6,000 chargers per million population with around 70% of people living in apartment blocks. In the rest of the Netherlands, there are 2,900 chargers per million population and 36% of residents live in multi-dwelling units. This shows just how valuable it is to have more chargers in areas where people might not be able to charge at home.
Understanding human behaviour
One of the big arguments against EVs is how those in multi-unit dwellings will charge, but this isn't as big an issue as we might think. In the EU, there are, on average, 560 cars per 1000 people. That means around half of the population owns or has access to a car. While it's important to install multi-unit-dwelling chargers, not every person will need one.

With many new buildings required to install charging infrastructure and with a growing public charger network, it's not necessarily those in apartment blocks who will hold back the EV revolution. In fact, there are even schemes to support others without access to a home charger. This allows those with EVs — but no access to their own chargers — to use someone else's for a fee. These are typically lower cost than the public charging network, but allow those with driveways the chance to monetise their charge points.
In order to support EV drivers, no matter where they live, we need a three-pronged approach: It's important that multi-unit dwellings continue to install chargers.
We must work to improve destination charging.
Workplaces should also provide charge points for their employees — especially those unable to charge at home.
For apartment block owners and housing associations, if you'd like to learn more about how you can install chargers in your locations, we'd be happy to guide you through the process. Please get in touch for more information.