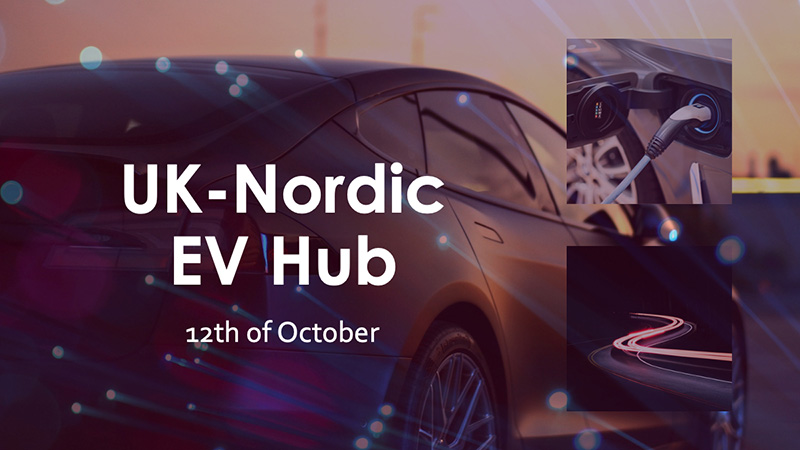 Save the date for 12 October! Join colleagues from the eMobility sectors in Norway, Sweden, and the UK for an insightful day packed with presentations, discussions and best practices on transportation electrification, electric vehicles and charging solutions.
CURRENT will be a speaker at the UK-Nordic EV Hub – a new cross-border event to accelerate electrification of transport in the Nordics and the UK.
This online seminar – free of charge – offers you the chance to listen to several exciting sessions focused on different topics in the EV charging industry from the three different markets: United Kingdom, Sweden and Norway.
Topics discussed include:
Access to charging in urban areas
Charging of commercial fleets
Vehicle-to-grid & smart charging
Wireless and automatic charging
The event lasts a full day, but you can choose to attend any number of sessions that interest you.
Visit the UK-Nordic EV Hub's website for information about what to expect on the day.
CURRENT'S SESSION: V2G AND SMART CHARGING
CURRENT has installed Norway's first Vehicle-to-Grid (V2G) solution, making it the first and so far the only player in the EV sector to demonstrate how electric vehicle batteries can become valuable resources for power grids and building owners.
Read more: CURRENT installs Norway's first Vehicle-to-Grid installation
CURRENT's innovative technology integration achievement sets it apart from other charge management platforms on the market.
As a pioneer in V2G technology development, we will take part in a session titled "V2G and smart charging". Also speaking in the session are:
Jesper Björkman, Business Development & Partnerships at Flower
Valts Grintals, Policy & Grids Lead at

Kaluza

Ben Kelsey, COO at

INDRA
The session is moderated by Neale Ryan from Innovate UK.
What is the agenda for the session?
To electrify the transport in a fast and resource-efficient way, charging will need to be coordinated with power system aspects such as available grid capacity and level of renewable power production.
How can EV portfolios support grid capacity and frequency? What are the technical challenges of V2G solutions? And how do you create a commercial offer for consumers around V2G and flexibility?
Each panelist will present innovative solutions from their market, followed by a panel discussion.
THE SEMINAR AT-A-GLANCE
The UK-Nordic EV Hub is aimed at anyone interested in learning about the key challenges and solutions in the EV markets in UK, Norway and Sweden. A key goal of the day is to improve international knowledge sharing on best practices and to link solution providers and problem owners. It will also give you the opportunity to grow your network with new stakeholders.
COME AND JOIN US!
We look forward to speaking at UK Nordic EV Hub, and we hope to see you there. Here's your chance to grow your network and knowledge from the comfort of your own home or office.
So, to summarise: The UK-Nordic EV Hub will offer you the chance to learn about innovative solutions from the three markets, listen to panel discussions, and participate in networking sessions connected to the four topics led by inspirational actors in the field of EVs and charging infrastructure.
Hopin's meeting platform is very easy to use, and you will get the chance to network through speed-dating and to schedule one-to-one meetings with other attendees.
Event date: 12 October at 10-17 CET