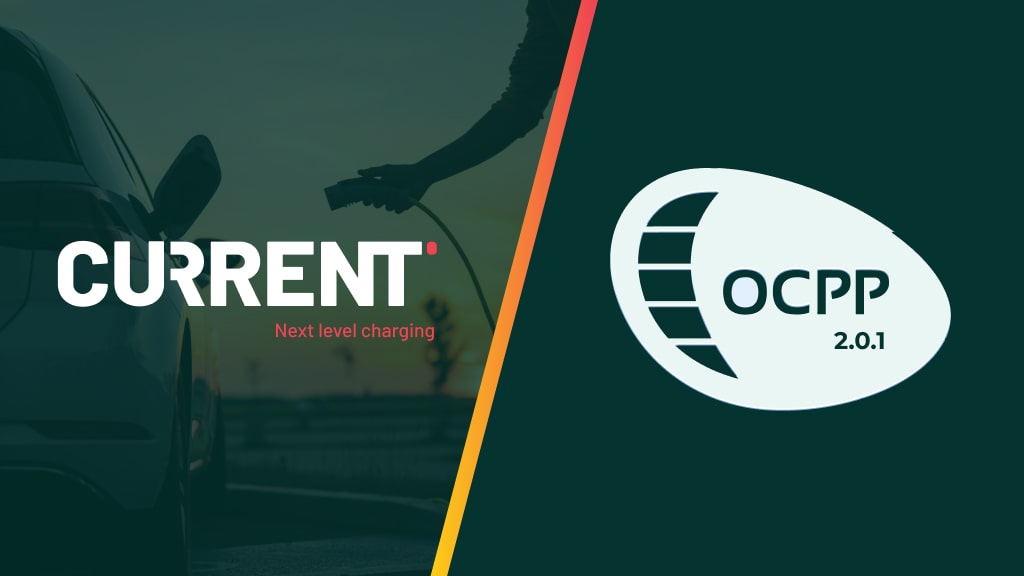 Standardization in the electric vehicle charging industry is as vital as ever as we move towards mainstream adoption of EVs. A significant part of this is the Open Charge Point Protocol (OCPP), which sets standards for smart charging.

CURRENT is a participant in the Open Charge Alliance's network and we've been working to OCPP standards from the very beginning. We're pleased to announce that our CURRENT platform now fully supports OCPP 2.0.1, the latest standard for smart charging and all it's modules.
Core

Advanced Security

Local Authorization List Management

Smart Charging

Advanced Device Management

Reservation

Advanced UI

ISO 15118 Support
The power of advanced smart charging
The OCPP standards enable communication between chargers and the charge point management system. This gives operators and location owners a wealth of features that allow them to control the charger remotely, load balance between vehicles, and much more.

Here are some examples of what this means for operators and users:
Gives the ability to see which chargers are available and which are in use
Allows operators and installers to remotely restart a device
Enables dynamic load balancing to help reduce costs and energy use
Gives more visibility into issues
Businesses and homeowners can have greater control over energy use
Can optimize charging times based on the range needed
Enables peak shaving to reduce costs
Support the use of V2G and V2X technology


CURRENT AND OCPP 2.0.1
We are able to communicate with a charger through our CURRENT platform. In supporting OCPP 2.0.1, this gives us the chance to offer yet more features to our customers. It also future-proofs our software for innovations that will soon become the norm – such as V2X technology – and helps us to offer additional security.

Not all hardware is OCPP 2.0.1 compliant and while we encourage our customers to use the most up-to-date chargers, we can still support those following OCPP 1.6 standards or lower. However, for any installers working on new projects, it's worth considering hardware that follows the most recent OCPP guidelines as this allows for more flexibility and future-proofs your installs.

OCPP 2.0.1 builds on the previous version, adding:
Advanced device management features to configure and monitor a charging station
Improved transaction handling
Additional security tools including event logging and security profiles for authentication
Added Smart Charging functionalities
Support for ISO 15118
Display and messaging support to provide users with information on things like charging costs


Support for Plug&Charge
OCPP 2.0.1 adds support for ISO 15118, also known as Plug & Charge. This is a group of standards from the International Electrotechnical Commision (IEC) that enables a charge point to recognize a vehicle as soon as it plugs in. While this isn't a common feature just yet, it will become more widely used in the future and complying with the latest version of OCPP is a great way to plan for the future.
Device management
The additional control offered by OCPP 2.0.1 is the real game changer. This allows operators to get a deeper insight into their chargers to support with predictive maintenance, business decision-making, and energy management.
More information for EV drivers
With the ability to set display messages, operators can offer more accurate information to drivers. It's now easier than ever to display charging rates, total cost, level of charge, and more to the person plugging in. This builds more transparency into the charging process and is especially important if you use dynamic load balancing, peak-shaving, or spot pricing on your chargers, as users will know exactly what to expect from their charging session in terms of charging speed and cost.

We believe support of OCPP 2.0.1 is vital in preparing for the future. It's important that installers are communicating this to customers and choosing both software and hardware that supports these standards. This not only makes life easier for the installer but ensures the customer will remain one step ahead as we begin to rely more on smart charging technology.


If you'd like to find out more about CURRENT''s new features and what OCPP 2.0.1 might mean for your business, book a demo here.