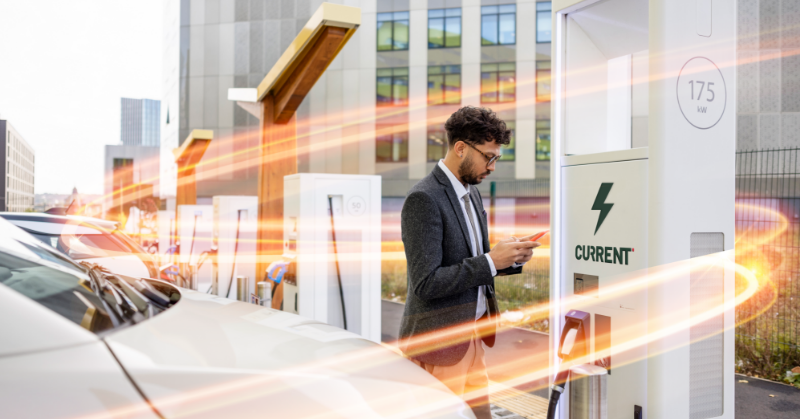 When we at CURRENT speak to any customer looking for electric vehicle (EV) charging technology, our main goal is to understand their needs so that we can give them the solution that fits them best. There's nothing 'one-size-fits-all' about EV charging, or indeed any service a business is looking for.
Digging deep into the specifics of what an organization requires is the first step to providing exactly what will enhance their business and drive EV adoption forward.
What to look for when choosing EV chargers
With EV sales increasing rapidly and infrastructure being put in place to support that adoption, it's vital that we guide our customers regarding the baseline of what they will need. The EV charging technology of yesterday simply isn't fit for purpose, as things have evolved considerably since the first chargers were installed.

It's important you're working with the right partners to guide you on the latest requirements and hardware. Here's what you need to consider as a business offering EV charging.
SOFTWARE-AGNOSTIC HARDWARE
To mitigate risk, you want to choose software-agnostic hardware that can be operated by different vendors, because that way, sub-par software can easily be changed. Changing the hardware is far more expensive.
REGULATORY COMPLIANCE
Your chargers need to be compliant with local rules and regulations for them to be legally and safely used. It's also important to find chargers and software that meet Open Charge Point Protocol (OCPP) standards.

OCPP is an open-source communication standard for charging stations, charge point management systems, and EVs that allows you to implement new features and improvements easily. This is because it's an open protocol, allowing for standardization and enabling future-proofing of your charging software.
Curating a solution
The predominant challenge we face is when clients ask us upfront for our 'complete solution' without necessarily knowing what that means. Fortunately, a huge part of our job is to educate. For example, everybody wants smart charging right now, but not many people can define what it is, making it potentially difficult to deliver what's being asked for. But once we get into the nitty gritty and ask the right questions, we can help you work out exactly what you need.

These are the types of questions we'll ask to get the solution right:
What types of services would you like to offer to charging station users?
What is the cost structure for energy connected to the site?
Is the power meter only connected to the charger, or does it affect or control other parts?
What are the energy tariffs where you are?
At this point, we can figure out how to create the most sustainable way of delivering energy to make sure your costs are covered. We help our clients to utilize what they have so that they can start delivering a service to their end-user as soon as possible, making sure they have a positive experience along the way.

Of course, we can recommend specific chargers for businesses but the solution is likely to go beyond hardware. For us as experts, this initial conversation forms the foundation of the relationship because it allows us to really dig into what the customer wants, and allows us to explore, with them, the opportunities at hand.

We're happy to talk you through what you need to know about the equipment your business needs to support it in the future. Book a live demo today, or get in touch to learn more.