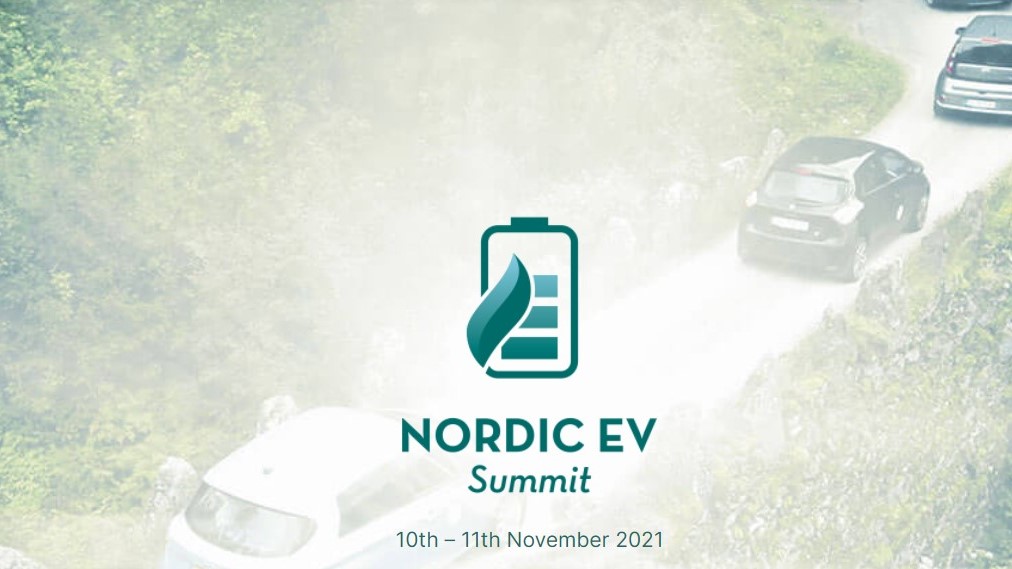 CURRENT will attend Northern Europe's largest EV conference on 10-11 November 2021, with key figures from the eMobility, car and battery industries, innovation, EV charging and politics.
Nordic EV Summit is an international conference with participants from all around the world, where you will meet key players involved in the rapidly growing EV community.

CURRENT CEO, Tom Orvei, elaborates:
– Nordic EV Summit is widely recognised as one of the most important venues for the EV industry in Europe. We're thrilled to be joining decision-makers from policy, industry, research and organisations, to connect and discuss how to electrify the transport sector as fast as possible.
The two-day conference will include plenary sessions, keynote speeches, workshops and exhibitions. CURRENT will have a booth in the exhibition area, and we look forward to seeing you there.
– The Nordic EV Summit is the perfect place to engage in a dialogue among the various industries involved in electric mobility, says CURRENT CCO, Åsmund Møll Frengstad. He goes on to say:
– The conference is a good meeting place to network and get inspiration. In 2019, more than 950 delegates from 40 countries attended, and we expect no less this time around!
Join CURRENT at the Nordic EV Summit on 10-11 November, 2021.
WHERE WILL THE EVENT TAKE PLACE?
The event will be held at the Norway Trade Fairs (Norges Varemesse) in Lillestrøm, a suburb of Oslo with excellent train connections to downtown Oslo. You will find more information here.
Additionally, the event will be streamed live on the web.
WHAT WILL BE THE MAIN TOPICS OF THE SUMMIT?
Nordic EV Summit's main theme this year is 'Entering the Electric Era', and the program will cover eMobility at sea, on land and in the air.
Electrification of the transport sector with renewables will reduce global CO2 emissions considerably. How do we get policymakers, businesses and consumers to speed up the transition to the electric era?
You will gain a global perspective on the following four topics:
1. EU and EV policies – how to get to zero emissions
EV policies have been rapidly changing in EU countries, and the EU's Green Deal is aiming for zero in 2050. But are the current EV policies sufficient for achieving zero emissions in the transport sector, creating new green jobs, and changing consumer behaviour? Members of the European Parliament and top transport and environment lobbyists will discuss this issue.
2. The charging challenges
Smart charging in a renewable energy system. How do we power a fully electric transport sector? And how do we make charging easier for all consumers? Here you will hear and meet key players from the European charging infrastructure business and industry.
3. Sustainable battery production
The prospects of renewable and circular battery production in the Nordic Region. How do we combat the challenges ahead? First, you will be able to hear and meet top actors from around the world, then you will hear from battery business leaders from the Nordic region.
4. A fully electric car market – but when?
How are international car manufacturers tackling the shift, and will they meet the demand for EVs? And what is the impact of newcomers on the EV market around the world? You will hear and meet some of the top people from the car industry in Europe, the USA and China.
WHY SHOULD YOU GO?
Nordic EV Summit is Northern Europe's largest meeting point and networking venue for eMobility and EV technology, and it attracts many heavy hitters from the EV industry.
The conference offers a unique opportunity to showcase Nordic solutions to international clients, investors and business partners.
There will be networking opportunities for Nordic and European companies and clusters as well as the chance to make connections for potential future business.
You will experience how electrification of the transport sector is a success story for Norway and the rest of the Nordic region.
Furthermore, you will...
Meet leading car manufacturers, hear their experience with electrification and plans for the future.
Meet policymakers, discuss EV policies for Europe, and learn from global best practices.
Learn about the newest technologies in battery production, charging and much more at the summit's conference and exhibition.
See the list of confirmed speakers here.
ARE WE GOING TO MEET THERE?
Please stop by our booth for a chat if you'd like to meet with us. We will be delighted to speak with you and demonstrate our market-leading charging platform for electric vehicles. Feel free to book a meeting in our event calendar.
CURRENT is looking forward to seeing you at Nordic EV Summit. You can register here.